York Regional Police, in partnership with Peel Regional Police, the Toronto Police Service and the Ontario Provincial Police, has laid hundreds of charges, impounded more than 60 vehicles and arrested 70 people in Project Takeover, a joint-forces initiative focused on organized street racing and stunt driving.
In 2020, police organizations across the Greater Toronto (GTA) area saw a significant increase in street racing and stunt driving incidents. Officers determined that these groups were highly organized. They planned and promoted these events, including ways to avoid detection and law enforcement.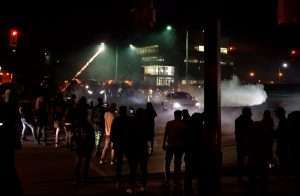 In January 2021, police identified several groups involved in the organization of these illegal gatherings, stunting and street races. Project Takeover was launched in May 2021, led by York Regional Police but working closely with partnering police agencies in order to work beyond jurisdictional boundaries.
This project was intelligence led, using an investigative approach, aimed at dismantling these groups and disrupting the dangerous activities occurring across the GTA. Suspects were identified utilizing covert and overt surveillance, gathering intelligence and using specialized equipment like the York Regional Police helicopter, Air2.
Between May 1 and June 24, 2021, officers arrested 70 people, laid 67 criminal charges, 279 provincial offences charges, impounded 61 vehicles and issued 57 licence suspensions.
These drivers should know that we are, as police services, willing and able to change our investigative techniques and our enforcement focus to combat these groups, no matter how they try to adapt.
Beyond Project Takeover, York Regional Police and its partners across the GTA are committed to keeping the pressure on as they move into the summer with Project ERASE – Eliminate Racing Activities on Streets Everywhere. Police services across the GTA has operated Project ERASE every summer for many years and this will continue throughout the summer and fall.
Street racing groups are known to move locations frequently, so partnerships are crucial among law enforcement agencies as well as partnerships within our community. Members of the community are encouraged to help stop street racing by calling police immediately if you see dangerous driving behaviors on the road that could jeopardize the safety of motorists and pedestrians.