The SmartCentre plaza development at Highway 48 and Hoover Park Drive with Walmart, Canadian Tire and other businesses have long been a shopping magnet for Stouffville townsfolk, as well as for residents of North Markham, who prefer a short leisurely drive through some farmland to get to Stouffville rather than fight urban congestion in the south part of that city.
Things will likely start to get a lot busier soon and less farmland visible as shovels are expected to go in the ground on both the sides of the highway in that area.
Flato, a well-known local developer, has acquired two Ministerial Zoning Orders (MZO) to develop lands it owns on the west side. These "Whitebelt lands," although not in the protected Greenbelt, were not part of the towns formal development plans for the near future.
But guess what? The MZO, issued by the province, essentially offered a short cut to build.
What the MZOs will allow immediately across from the Sam's Way roadway is about 1964 residential units, some commercial space and a school. This development will stretch down past the town boundary to 19th Ave. into Markham and north to what will practically be an extension of Hoover Park Drive westward.
The second Flato section approved by MZO, which is west of the first, allows five condo buildings with a total of 550 units along with over 100 townhouses.
While the details of development are still ongoing and subject to Town/City approvals, that review process is underway and expected to be completed and shovels in the ground this year.
The southwest corner of Stouffville Rd. and Highway 48 has seen applications that seek to allow a mix of commercial and higher-density residential units (apartments). Much still to be considered and decided on here yet.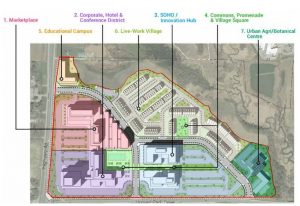 The east side of 48 North of Hoover Park Drive, now home to empty fields, will likely look much different with a proposal from Corebridge Developments to build a "Live-work Village" in the works that would allow residential, commercial, a hotel and an "educational campus."
While details are still to be finalized, this triangular piece of land stretching from close to Stouffville Rd./Main St. down to Hoover Park, if the proposal is greenlighted as is, will significantly alter the landscape and provide a mix of uses. Currently, these lands and those south of SmartCentre are zoned as employment lands, so require formal "conversion" by council to allow residential use.
Land immediately to the east of Sportchek and south of Walmart, owned by Smart Centre, also require zoning changes to allow some residential development that would include a retirement home, mid-rise apartment/condominium space as well as a possible hotel, and commercial/industrial space. This area abuts the off-leash dog area.
All these projects detailed above were contained in a recent council report and remain the subject of a significant town study that is still to be completed (Highway 48 Visioning Exercise). That report also notes that the individual projects themselves are not all that council has to consider. Chief among these is the infrastructure that will be needed to support such intense development, such as road redesign and traffic flow, and how much will be set aside for green-space/parks among other items.
Also to be considered is how they all will mesh together to maintain the livability of what is still, and will remain, a fairly small municipality and the input from current residents.
Regardless of how the details shake out, it is a certainty that the area will look much different very soon and the transformation will likely start as early as later this year.
Stay tuned.