As part of a responsible municipal planning policy, most new residential developments are required to set aside some green space to be used as a common area for residents.
These parks, and their little sibling, parkettes, are familiar sites, complete with green grass, benches and, if big enough, jungle gyms.
Kids love these things. When my kids were younger, the sight of each and every jungle-gym playground would cause a unified cry of "park!," and a demand to stop and play.
There were a lot of them too. We took a long time to get anywhere, but the kids had a ton of fun.
But as nice as it is for kids to have a place to make and play with friends, they age out of them quickly and by the time they are 12 or so, they are usually too big or too bored for the simple fun of the average jungle gym and, even if they still love them, they are scolded or glared off of them by protective parents of even younger kids.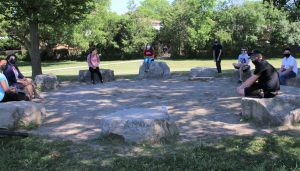 But where do they have to go?
There are not many designated spaces for the 12-18 crowd.
Residents are always suspicious of a bunch of teens hanging out on a park bench and private businesses don't want low-spending, potentially troublesome teens about.
Skate and BMX kids can hit the Stouffville skateboard park at Hoover and Park, but that's only one place and limited in size.
However, a few future-minded Grade 7 students who along with their leaders at Summitview Public School have been putting some thought towards creating some positive, fun places in town for this group of underserved residents.
Enter Connie Calvert, the Library, Arts and Digital Learning Lead at Summitview Public school, who led a class discussion about how students could improve their community. Among the ideas bandied about was one that resonated personally with them – a youth-oriented space to hang.
Though young, the students knew these things don't just magically happen. It takes work.
So what started as a thought, is turning into turn into a multi-tiered learning experience in civic engagement. With planning and research experts visiting the class, students were then divided up into finance, 3D modelling, PR, finance, research, design and environmental/planning committees that brought the project to partial life.
Some focus groups were assembled within Summitview and from other schools in the area who were also keen to jump on board with the idea.
They came up with a roster of possible features like a wipe off graffiti board, built-in fountain and hand-sanitizing station, rubberized surfaces, larger swing and climbing apparatus than traditional parks and better accessibility for less-mobile users.
This all on a larger three-quarter acre of space with proximity to bike paths among others considerations. They also estimated, with research assistance from the Stouffville Library, the cost could be between $50,000 and $100,000 with more needed if they had to buy land.
Admittedly these are big numbers, but students proposed that while some of the funds could come from the municipality, it could be subsidized with corporate sponsors that they pledged to approach.
The youth-centred park idea was presented to Stouffville council on June 15 by students Jordan Newall and Isaac Schregardus, along with a proud Calvert. It included a request to council to provide the park space – either a current, underdeveloped park or a future green space and other supports.
The idea was enthusiastically embraced by council and the project was sent to the Town's Planning department for consideration.
Ward 6 councillor Sue Sherban, whose ward includes Summitview was effusive in her praise.
"I consider myself alumni of sorts," she says, noting that her own kids attended the school. "The presentation blew me away. What the students and the teacher presented was far more than what I expected. I encouraged them to come to Council as a delegation and present what they had shown me, and I also connected them to the library to help with a 3D presentation for Council.
"It is not often you (get) an opportunity like this for our youth to come forward not only to let us know how they would like a youth park but also have a plan. This has been truly inspiring for me during covid to see these young adults come together and create a vision for our community youth. It also goes to show how a small school can do great things!"
In conversation with students, they were clearly aware that in addition to the proposed park benefiting them socially they were getting a unique learning experience that let them see deep into professional roles they might pursue as careers.
That's exactly the point Calvert focuses on.
"This is what I feel my job is," Calvert says. "To show them the connection between the curriculum and the real world."
Also impressed was mayor Iain Lovatt who pointed out that great ideas in town have come from exceptional young students before, including the skatepark that is now a reality at Memorial Park.
After review from Stouffville Development Planning, a refined proposal including location for the new youth-led, youth park will come back to council for review and, hopefully for the students, approval.
Photo: Grade seven students from Summitview Public School hang out at one of the town parks they say they have grown out of. With few other options, they built a fully-costed proposal that they presented to an impressed council recently.